Nancy Koch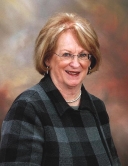 Nancy Koch was a 40+ year member of PAAR having served as President in 1996-97, as well as President of Central IL Homes Guide. Nancy was also instrumental in the formulation of PAAR CARES Foundation, serving on the board for many years. Nancy was a managing broker for almost 25 years and served on numerous state committees since 1990. In 2007, she was named the Illinois REALTOR® of the Year.
We will be forever grateful for her contributions over 40 years within our Association. May her legacy and love for higher education live on through the Nancy Koch Scholarship.
Scholarship
The Nancy Koch Memorial Fund will be used to award scholarships to complete a GRI, The Graduate REALTOR® Institute Designation through the National Association of REALTORS®. Earning the Graduate REALTOR® Institute (GRI) designation is a way to stand out to prospective home buyers and sellers as a REALTOR® who has gained in-depth market knowledge, increased proficiency in a broad array of subjects to enhance professionalism and business success.
Any person who has been a licensed real estate agent in Illinois for a minimum of one year, and a member of the Peoria Area Association of REALTORS® interested in furthering their career in the real estate industry is eligible. Applicant must be a resident of Fulton, Hancock, Knox, Mason, McDonough, McLean, Peoria, Schuyler, Tazewell and Woodford County is eligible to apply for a scholarship.
The application deadline for 2022 has closed. If you would like to apply for the Nancy Koch Scholarship for 2023, CLICK HERE
Chili 'Koch' Off
Led by Chairman and reigning Chili Champion, Teri Shepherd, the event raised just over $1,600 for the scholarship fund and saw over 60 in attendance, including several of the invited food pantries that the PAAR CARES Turkey Drive serves. A delicious and fun annual event!
Congratulations the 2022 winners!
1st place – Jenny Riebel, Coldwell Banker Real Estate Group
2nd place – Melyssa Sutton, New World Realty LLC
3rd place – Keith McKeever, Fathom Realty