OUR MISSION STATEMENT IS TO UNITE OUR REALTOR® COMMUNITY INTO MAKING AN IMPACT IN CENTRAL ILLINOIS BY STRENGTHENING CHARITIES IN OUR COMMUNITIES AND AIDING IN DISASTER RELIEF

The PAAR CARES Foundation is a not-for-profit charitable foundation; supported by voluntary contributions by REALTOR® and Affiliate members of Peoria Area Association of REALTORS®, member firms and the public. All contributions made to PAAR CARES Foundation are dedicated to their programs and projects; no monies are used for administrative overhead. Donations are tax deductible; contributions can be made to a specific program or as a general donation.
Ways We Help
For over 30 years, the Turkey Drive has raised funds contributing over 37,000 turkeys to 30+ food area food pantries throughout Peoria, Tazewell, Woodford, Fulton and McDonough Counties. 100% of all funds raised are dedicated to supporting the needs of the community.
If you would like to apply to be a part of our Annual Turkey Drive, CLICK HERE
BOOTS FOR KIDS
Created by Lamoine Valley REALTORS®, a chapter of Peoria Area Association of REALTORS®, to provide boots for children in need during the winter months. REALTORS® raise money to purchase boots as needed.
READY TO ROLL
Assisting in building wheelchair ramps for disabled individuals who own their homes, so they can live independently. PAAR CARES helps financially and with volunteers through the Ready to Roll Ramps for Independence Program, partnering with Advocates for Access and His Helping Hands.
EDUCATION
PAAR CARES has initiated several educational opportunities within the community to promote housing opportunities, as well as establish legacy scholarships to enhance the REALTORS® knowledge through advanced education.
2021 Board of Directors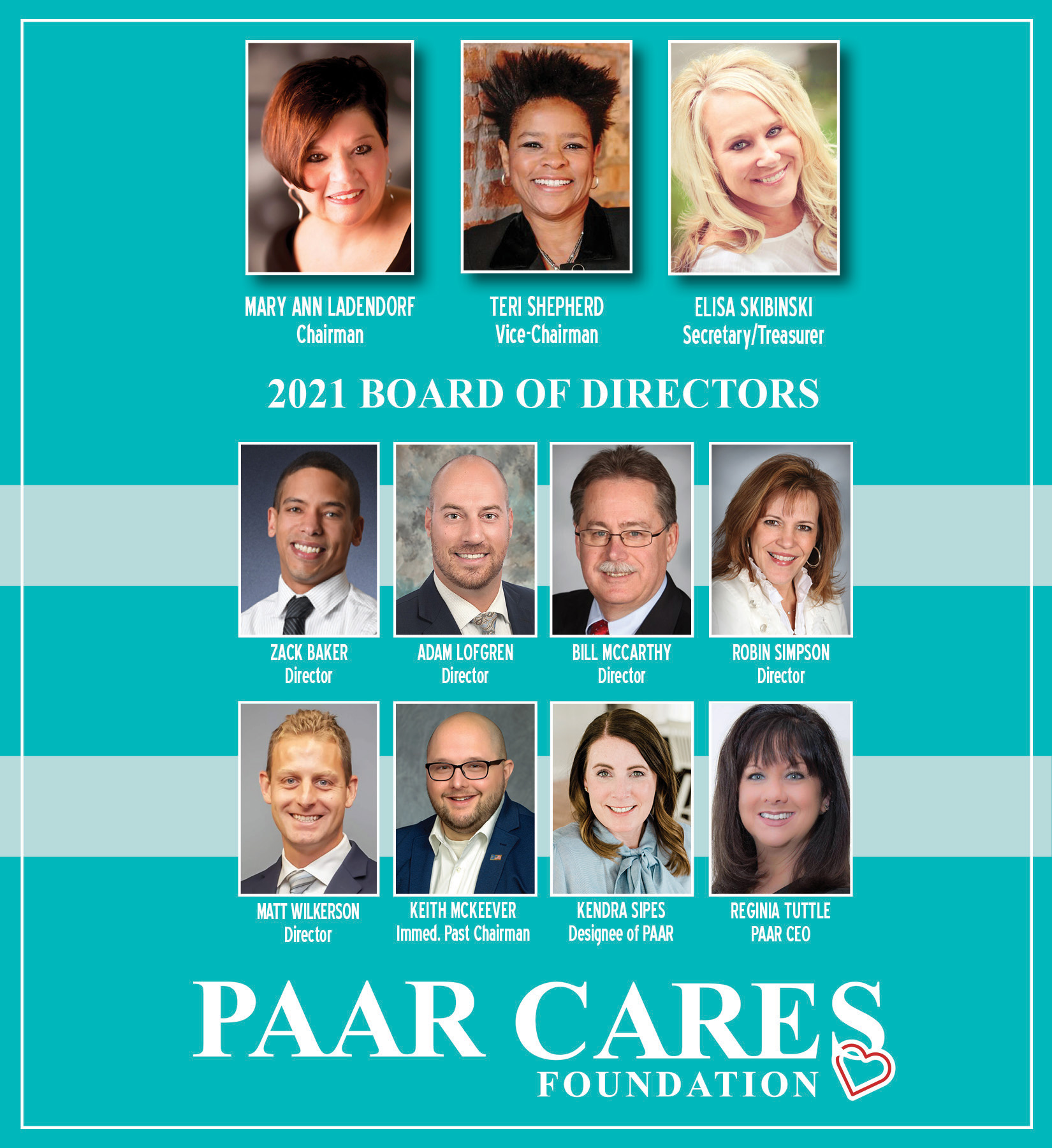 PAAR CARES focuses on homeownership, affordable housing, rehabilitation and homelessness initiatives, including organizations that assist those in our community. The Foundation's programs strive to support basic and urgent human needs, (food and shelter; family support, and education). The inception of PAAR CARES Foundation was the 2014 Washington, Pekin and East Peoria tornado which dismantled many people's homes and businesses. Through the relief efforts of many within the Peoria Area Association of REALTORS®, the PAAR CARES Foundation was formed. The PAAR CARES Foundation has grown exponentially from its birth in 2014 and continues to strive to make impactful community efforts through various channels.