RPAC: REALTORS® Political Action Committee
RPAC supports pro-REALTOR® candidates for public office including:
LOCAL government (e.g., mayor, city council, county government throughout Illinois)
STATE government (e.g., our lawmakers at the State Capitol in Springfield)
FEDERAL government (e.g., Members of the U.S. Congress)
REALTORS® decide who gets RPAC dollars based on their support for issues important to the real estate profession, private property rights, buyers and sellers of real estate.
RPAC is supported by voluntary contributions made by REALTORS®.
Why Invest in RPAC?
The political process is the one we have. "If you're not at the table, you're on the menu." Lawmakers have the power to make decisions on countless issues affecting real estate. RPAC and our strong advocacy program help us be at the table where decisions are made whether at city hall, Springfield or Washington, D.C.
LOCAL GOVERNMENT EXAMPLES
Eliminated a real estate for-sale sign sticker fee of $50
Ended a $75 commercial sign permit fee
Stopped effort to license and regulate multifamily dwelling units charging a fee of $60 per unit, annually
STATE GOVERNMENT BATTLES:
Stopped a $500 video sewer inspection fee for the seller in residential real estate transactions statewide
Stopped a tripling of the Real Estate Transfer Tax for non-residential property – a jump from $1 to $3 per $1,000 Legislative Scorecard
Help pass bills that consolidate local government in the interest of lowering property taxes
Review the Illinois REALTORS® Legislative Scorecard to learn about the critical battles fought against and the important issues supported.
NATIONAL PRIORITIES SNAPSHOT:
Protect the National Flood Insurance Program
Strengthen access to credit for homebuyers
Support policies that protect and enhance the flow of capital to commercial real estate
Link to federal advocacy issues from the National Association of REALTORS®.
Contributions to RPAC are not deductible for federal income tax purposes. Contributions are voluntary and are used for political purposes. The amounts indicated are merely guidelines and you may contribute more or less than the suggested amounts. The National Association of REALTORS® and its state and local associations will not favor or disadvantage any member because of the amount contributed or decision not to contribute. You may refuse to contribute without reprisal. Up to thirty percent (30%) may be sent to National RPAC to support federal candidates and is charged against your limits under 2 U.S.C. 441a. A copy of our report filed with the State Board of Elections is (or will be) available on the Board's official website or for purchase from the State Board of Elections, Springfield, Illinois. Except as may be required by state or federal law, the Illinois REALTORS® PAC (Illinois RPAC) is not required to refund political contributions. However, refund requests will be considered on a case-by-case basis so long as they are received within 30 days of the contribution.
Your Local Advocates for Real Estate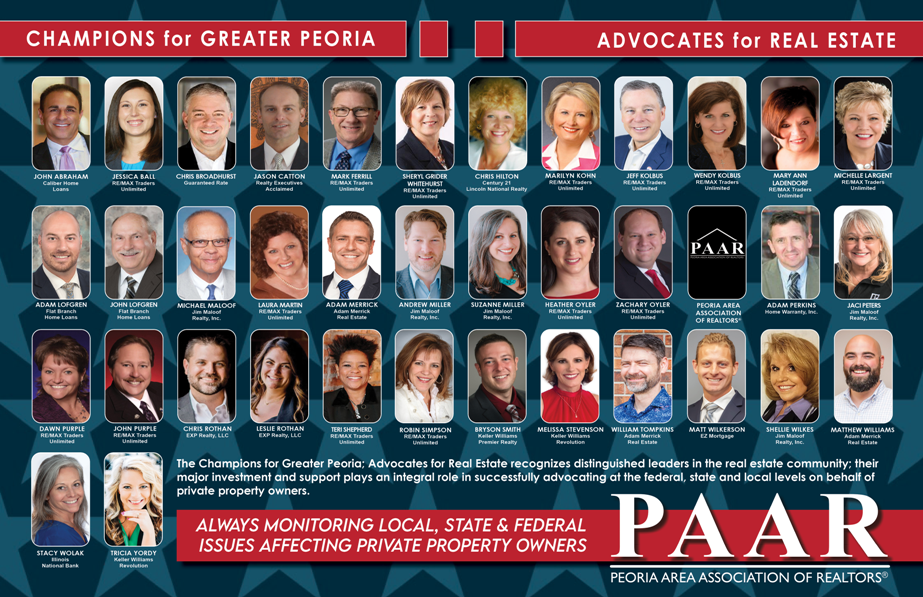 REALTORS® are primarily known for helping people buy and sell homes. They are also property owners biggest political advocates.
The Peoria Area Association of REALTORS® (PAAR) advocates for policy initiatives at the local, state and federal level that promote and protect a fundamentally sound and dynamic local real estate market. Members are constantly monitoring issues related to homeownership, real estate tax policies, regulations & ordinances, credit & lending policies, insurance and other policies.
PAAR members maintain relationships with policymakers on all levels – local, state and federal; monitoring issues impacting property owners. This includes advocating for laws and regulations that protect our private property rights as well as conducting studies & legal analysis, public opinion surveys and data analysis on issues impacting our communities.
With over 700 REALTOR® members and approximately 145 Affiliates, PAAR provides a wide variety of resources to foster and harness grassroots efforts that help educate public officials. PAAR members serve as the Voice for Real Estate in Central Illinois, advocating for consumer-friendly real estate policies; opposing measures that could hurt property owners and future buyers.
Through the collected efforts of PAAR, Illinois REALTORS®, and The National Association of REALTORS®, homeowner's issues are constantly in front of the city, county, state and federal officials. Area legislators agree these advocacy efforts keep them better informed on issues and are paramount to moving central Illinois communities forward.