REDEVELOPING SCHOOL SITES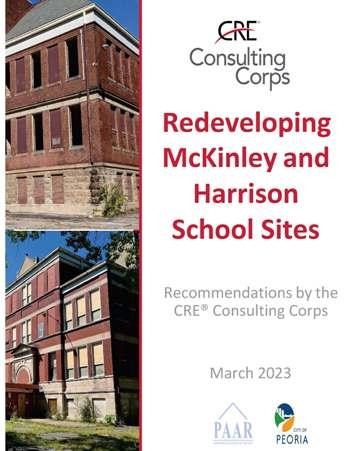 The City of Peoria and the Peoria Area
Association of REALTORS® asked The
Counselors of Real Estate® (CRE) Consulting
Corps to analyze the 61605 neighborhood and provide recommendations to reimagine the land
and community following demolition of two blighted school buildings - Harrison and McKinley Schools – situated within the residential neighborhood.
CLICK HERE FOR THE FULL REPORT
DOWNPAYMENT ASSISTANCE PROGRAM
Please review the link below to better understand the grant and which buyers may qualify. The key to the success and swift approval for the grant is to connect your buyers to lenders that are ready to process their application and pre-approval. The list of lenders provided are those that chose to participate in the working group meetings to better understand the grant and create a process with the City of Peoria that will streamline the process to get the funds into the hands of buyers quickly. A buyer may choose to use any lender as the program is open to all lenders to utilize. If you have any questions, contact PAAR at 309.688.8591 or one of the lenders on the provided list.
CLICK HERE FOR ALL THE DETAILS!
SENIOR LIVING IN ILLINOIS
HOUSING:
The aging adult population is growing in the U.S, and so is the need for appropriate housing. Assisted living communities are well equipped to help residents manage daily living activities, and they empower seniors to thrive, boosting their physical, mental, and social well-being.
Choosing the best facility, however, can be time-consuming and overwhelming for seniors and their loved ones. Our resources help aging adults and their families explore available communities, costs, and payment options.
Here are several resources:
ASSISTEDLIVING.ORG
CARING.COM
SENIORHOME.COM
Overview of Illinois Assisted Living
HEALTH:
Older adults are learning more about the cancers and other health risks that might affect them. Age is the most significant risk factor for developing cancer. People 65 and older comprise 60% of all cancer patients.
The Seniors Guide to Cancer covers topics like wellness tips, the importance of seeing a doctor, and preventive measures.
This resource on Mesothelioma will help seniors (who make up around 80% of those diagnosed with the disease) learn more about mesothelioma, asbestos and the steps that can be taken to fight this disease.